Feeding Mollies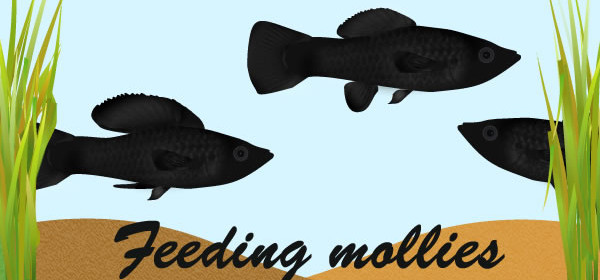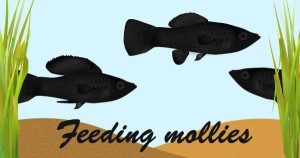 Beginners guide for feeding Mollies
What is good food for Mollies? What do mollies eat? Just flakes and thats it? We are going to look at some of the good and the bad. It is important that you are feeding right food and right amount to your mollies. Otherwise your precious mollies will end up getting sick or even worse. You are what you eat applies to fish also! Luckily feeding Mollies isn't rocket science if you follow basics.
Mollies that live in the wild are mainly omnivores and feed on algae, plant matter and small invertebrates. However when kept in aquarium, mollies should be fed quality flake food and a wide array of vegetables. The new life spectrum small fish formula
is one of the best high quality prepared foods that you can feed them. Their favorite vegetables are: shelled peas, cucumber medallions and zucchini medallions. For those who do not have time to blanch or cut vegetables, a spirulina based flake or pellet can be an alternative to plant matter in their diet. Mollies are mainly vegetarians, but they like to have some protein based food addition to their diet.
Did you know that Mollies actually have small teeth and they chew food? Like other livebearers they eat or taste almost anything they can get hold of. Mollies tend to chew and eat plants and vegetation in tank, but that's because they are always hungry and they will do almost anything for food.  Regardless of how regular you feed them, they will still beg for more.
You can also add other foods to their diet by offering frozen krill, frozen mosquito larvae and others. Always look for the "freshwater" label when buying such foods from any local pet store as they usually have frozen food for other marine aquarium fish as well. And then instead of dropping the whole cube into the aquarium, first cut part of the cube off before dropping it into the water.
How often and how much you need to feed Mollies?
When you feed them and notice that they are spitting the food, it means they have had too much. But they usually go after the spitted food even though they are full. You can feed them once or twice a day like most people do. They will do fine with that. When you feed them with flakes remember to crumble the fish flakes into small bits so that they can have an easy time eating them. Keep in mind that you can feed them twice or once a day and they won't mind at all. They usually eat within 5 minutes, and if you continue to drop more food into the tank, they will keep on eating but they will spit it out which means the food will end up settling at the bottom and make a real mess to the clean water.
As a general rule, it is a good idea to feed your molly fish small amounts several times a day, as they have small stomachs and cannot eat a lot at once. A good rule of thumb is to feed the fish an amount of food that they can consume in about 2-3 minutes. It is also important to avoid overfeeding the fish, as this can lead to poor water quality and potentially harm the fish.
Here is a rough guide of their diet in the wild and what you can feed them in the aquarium:
Basic
Slow-sinking vegetable and protein pellets
A wide array of vitaminated flake food which promote growth, a strong immune system and color
Fast-sinking vegetable and protein pellets so that they can browse for their food
Treats
Zucchini or cucumber slice with protein pellets
Frozen bloodworms and blackworms
Brine shrimp
Daphnia
Spinach
Peeled, crashed and mashed pea bits
Algae pills
Tubifex dried cube
Molly diet in the wild
Algae (they are actually good algae eaters and keep your fish tank clean!)
Plants
Small insects/ larvae
How to feed Mollies to get them Breeding?
For those who want to get them into a breeding condition feed them on frozen or live foods for a treat. It will make a huge difference and most likely you will get better results in terms of breeding and your fish well being. Some of their favorite frozen foods include; brine shrimp, daphnia and blood worms. You could also try to make your own molly fish food. It could be lack of fresh food in your mollies diet that causes them not to breed.
Final thoughts
One of the most important things that you can ever do for your fish is to feed them in small bits. The main goal here is to make sure that your mollies can handle and eat what you feed them before most of them fall to the bottom without the fish eating them. This will be a big issue because the food ends up sinking to the bottom which contaminates the water. Additionally decaying food raises nitrate levels in the water which is a common fish killer, so feeding them in small bits after sometime is the best.
It is also important to monitor the fish's behavior and overall health to ensure that they are getting the nutrition they need. If you notice any changes in the fish's behavior or appearance, it may be a good idea to adjust their diet or seek the advice of a veterinarian or aquarium professional.
Hopefully the article has given you some good ideas on feeding your molly fish awesome and great food in the most appropriate way. Nevertheless do not forget that mollies also like other foods other than tropical flakes. Of course they seem to enjoy and get excited over flake food, but everyone including fish likes a little variety here and there. Do you want to eat same food everyday?
Take care of your Mollies and yourself 😀